Fireluke Mesh Pro Replacement Coils By Freemax
has a rating of
5.0
stars based on
2
reviews.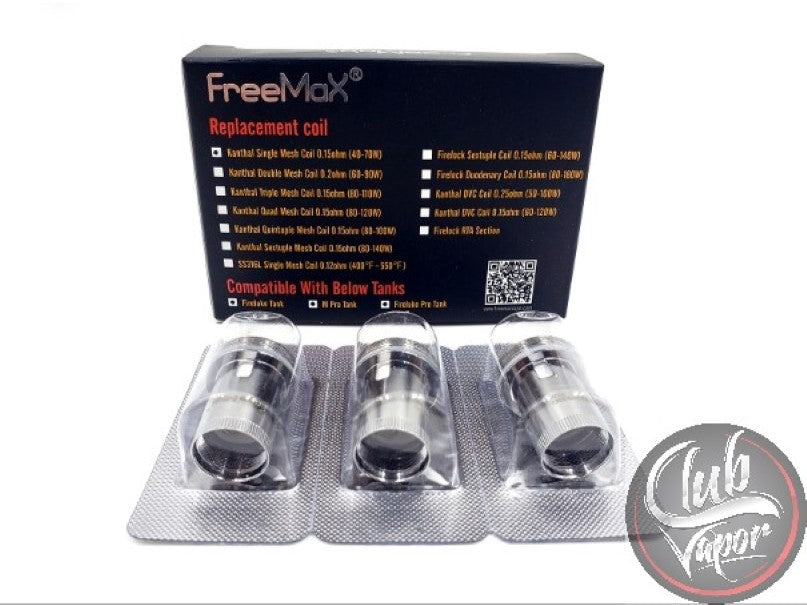 Fireluke Mesh Pro Replacement Coils By Freemax
---
Fireluke Mesh Pro Replacement Coils By Freemax
The Fireluke tank from Freemax became an instant hit upon its release and helped to usher in the current era of mesh coils. Available in two variations, including the smaller Fireluke Mesh and the larger Fireluke Pro, each were immediate hits. Mesh coils are renowned for their superior flavor production thanks to their innovative web design. This helps to allow for increased surface area where coil meets cotton, and thus provides for increased vapor production and flavor. Designed to help speed the wicking process, the result is an even distribution of e-liquid which helps prolong the life of your coil. Freemax has also kept the consumer in mind, the majority of their coils are cross compatible between newer generations Fireluke Mesh and Fireluke Pros, a bonus which few other tank manufacturers are willing to provide. Freemax proved with the Fireluke that they are not afraid to innovate, and have since doubled down on the innovation with their newest generations.
Specifications: 
Kanthal Single Mesh Coil

0.15ohm
Rated for 40-70W
Pack of 3
Compatibility: Fireluke Tank, M Pro Tank and Fireluke Pro Tank

Kanthal Double Mesh Coil

0.2ohm
Rated for 60-90W
Pack of 3
Compatibility: Fireluke Tank, M Pro Tank and Fireluke Pro Tank

Kanthal Triple Mesh Coil

0.15ohm
Rated for 80-110W
Pack of 3
Compatibility: Fireluke Tank, M Pro Tank and Fireluke Pro Tank

Kanthal Quad Mesh Coil

0.15ohm
Rated for 80-120W
Pack of 3
Compatibility: Fireluke Tank, M Pro Tank and Fireluke Pro Tank

Kanthal Quintuple Mesh Coil

0.15ohm
Rated for 80-100W
Pack of 3
Compatibility: Fireluke Tank, M Pro Tank and Fireluke Pro Tank
---
Share this Product
---
More from this collection